Explore real-life Black Friday email marketing examples from Revinate's customers
Are you counting the days until you receive Black Friday email campaigns with the best offers and discounts from different businesses? It's likely there are at least a few deals that will pique your interest and convince you to make a purchase.
Good news — many of your subscribers feel the same way, especially for hotel stays. If you haven't already begun drafting your own Black Friday email campaigns, consider this your sign to get started.
But to stand out in guests' email inboxes, you will need to be creative and grab their attention. If you need some inspiration, we're here to help you. Take a look at these 4 real-life Black Friday email marketing examples from our customers to kick off your campaign planning.
Subject line: Dear Guest, can you keep a secret?
Segment:

Contact list is not Team Landmark
Email address is not blank
Exclude guests with future stays
Email subscription status is subscribed — explicit

Open rate: 30.3%
Click-through rate: 5.3%

Why do we love this campaign?
Do you want to try for a longer Black Friday campaign? Here's a great example of how to extend your Black Friday offers until the holiday starts.
The Landmark London teased its subscribers with an exclusive offer, which you can see in the subject line. Guests who received this email were given the chance to enjoy not only 30% off, but also a bottle of wine on the house. The results were incredible. The Landmark London saw a 30.3% open rate with this campaign.
Subject line: Cyber Exclusive: Save up to 50% on your stay
Segment:

Check-in date is after January 1st, 2021
Email address is not blank
Email address domain is not guest.booking.com, m.expediapartnercentral.com, or other emails that include OTAs/partner emails
From all of Graduate Hotels properties

Open rate: 32%
Click-through rate: 3%
Room nights: 2721
Reservations: 1,535

Why do we love this campaign?
Maybe you need an example for a hotel group. Here's a simple, yet effective way to run a Black Friday email campaign that applies to all your properties from Graduate Hotels.
Graduate Hotels has properties all over the US, UK, and other locations. To make it easy for subscribers to enjoy the offer, Graduate Hotels leveraged a code that's applicable for all of their properties that are involved in the promotion — those appear at the bottom of the email.
This email is also a good example for a Cyber Monday offer that's valid for stays until the end of the first quarter of the following year. What were the results? There were 1,523 reservations from this campaign alone.
Subject line: Early Black Friday Exclusive — Save a third!
Segment: exclude emails with future stays
Open rate: 42.7%
Click-through rate: 7%
Reservations: 12 (35 room nights)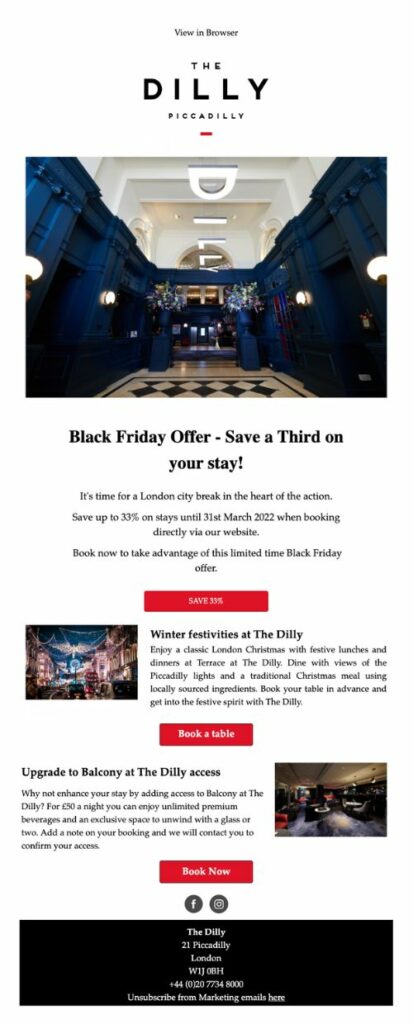 Why do we love this campaign?
A discount is always tempting, but to step up your game even more, be creative with your offers. This is a good example from The Dilly on Piccadilly that invited recipients to enjoy city attractions. The Dilly invited its subscribers to enjoy the Classic London Christmas in their restaurant.
Not only do subscribers have the opportunity to save up to 33% on their stays, but they can also enhance their stays by experiencing Christmas in London.
Subject line: The Savings are Shining Bright!
Segment:

Guests that have stayed since 2016 or have opened an email since 2020
Exclude specific lists of meeting planners.

Open rate: 28%
Click-through rate: 4%
Reservations: 162

Why do we love this campaign?
Don't shy away from sending a series of campaigns. As long as you're smart about how you do it, it can be an incredibly effective tactic for reaching guests.
The Wigwam sent 4 separate emails for their Black Friday email campaign, and this email alone generated 162 reservations. With a series of Black Friday campaigns, The Wigwam was able to send potential guests special promotionsand showcase their property. In this specific email, you can see that their Black Friday campaign was focused on their stunning golf courses.
Start crafting your own Black Friday email campaigns
We hope these Black Friday campaign examples have helped to get your creative juices flowing. Remember, they're examples to get you thinking. So don't be afraid to get creative with your offers and your segments.
If you'd like to see some additional ideas, take a look at the webinar on holiday marketing strategies uur Senior Customer Success Manager, Aylin Calp, hosted. It's available on demand and is filled with even more examples and best practices. If you're interested in learning more about how you can use email marketing to boost your direct bookings, explore our marketing solution.