[Updated 10/26/22] The day before a holiday isn't often considered a holiday itself. But when it comes to Christmas and New Year Traditions Around the World, revelers seem determined to make the most of the celebrations.
When you look at Christmas traditions, it seems as if one day just isn't enough. It's almost as if we can't bear to wait: We simply have to introduce "eve" celebrations! Isn't that wonderful?
The myriad Christmas Eve traditions around the world are both numerous and varied.
There are tons of Christmas Eve dinner traditions. Many of the religious Christmas Eve traditions around the world are also recognized as Christmas Day events, because they last past midnight and well into the morning.
Some traditions on Christmas Eve are fairly ubiquitous, such as the midnight mass service. Other Xmas Eve traditions—such as giving apples or surfing—are unique to certain regions, countries, or hemispheres.
For those of us who are jingling the bells to get moving with the holiday celebrations, here are some fascinating ways to go international and start the revelry as soon as possible.
Or it might just be fun to learn how Christmas is cranking up around the planet…
READ MORE: 90 Christmas Traditions Around the World (with Fun Christmas Facts)
Christmas Eve Traditions Around the World Guide
Ethiopia
China
Philippines
Armenia
Russia
Japan
Bethlehem
Australia and New Zealand
Spain
Norway
Poland
Italy
Iceland
Ireland
Germany
Ukraine
Denmark
France
England
Belize, Costa Rica, El Salvador, Guatemala, Honduras, Nicaragua, and Panama
USA
Mexico
Canada
Brazil
Venezuela
Christmas Eve Traditions in Africa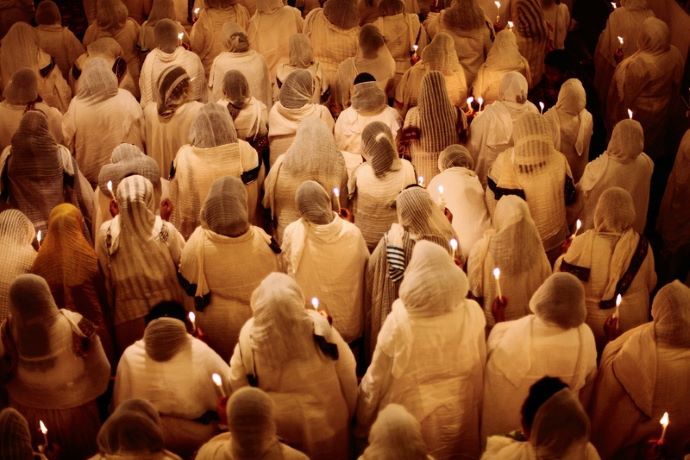 1. The Ethiopian Orthodox Church uses a different calendar than most of Europe and North America.
For them, Christmas Eve (called the gahad of Christmas) is on January 6th and Christmas Day on January 7th.
Ethiopian Christmas Eve traditions have serious religious fervor. Christmas Eve mass begins at about 6 PM on Christmas Eve and extends through to about 3 AM on Christmas Day.
Most people wear traditional clothing called netela, a thin white cloth with colored stripes at the end.
READ MORE: 25 Symbols of Christmas: The History & Meaning of Traditional Christmas Decor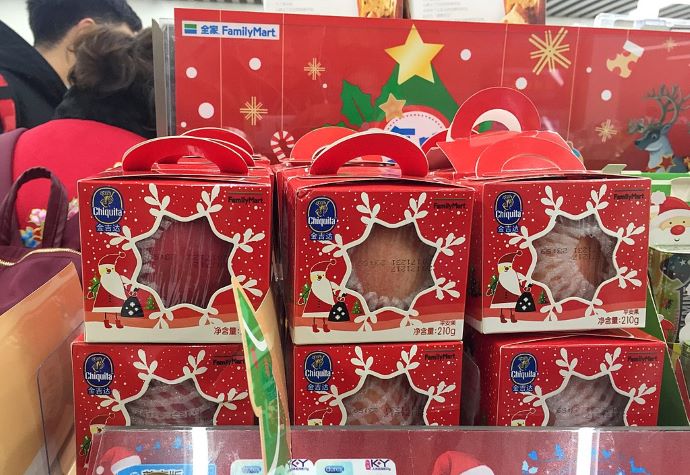 Christmas Eve Traditions in Asia
2. The traditional Christmas Eve activity in China—one of many countries that don't celebrate Christmas usually—is to give each other apples.
Some say that the Chinese tradition is based on a common misconception that that is what Americans do. Others compare the word for Christmas Eve (ping an ye) to the word for apple (ping guo), and say that's the reason the Chinese give their loved ones apples on December 24th.
Regardless of the origin of this Christmas Eve idea, the price of apples in China nearly doubles as Christmas Eve nears.
3. Christmas Eve food traditions vary greatly depending on where you are. In the Philippines, a huge feast is served on Christmas Eve after midnight mass (so technically not Christmas Eve, but not exactly Christmas Day either.)
The menu includes roasted pig, roasted chicken, queso de bola (a special cheese), ham, and a local take on meatloaf. There is also a fruit salad.
4. Though Western Christian traditions tend to associate fasting with Lent and Easter, the lead-up to Christmas Day is often a time of fasting in other parts of the world.
Armenians do this for a week leading up to Christmas Eve, during which time they only eat vegetarian meals during the day. Then, on Christmas Eve, families will gather for a big meal to break their fast.
5. Soviet Russia outlawed celebrating Christmas and moved many of the festivities to New Years. But their Christmas traditions have been somewhat revived in the post-Soviet era.
Some people in Russia fast before Christmas Eve, waiting to eat until the evening church service lets out and the first star appears in the sky.
The fast is often broken with a traditional dish called kutya, which has grains, honey, and poppy seeds. Meat is prohibited from the celebration.
In addition to fasting and avoiding meat, other Christmas Eve traditions in Russia include having a priest bless the home by sprinkling holy water and praying in every room of the house.
Russian Orthodox Christmas is observed on January 7 due to differences between the Gregorian and Julian calendars.
6. Christmas in Japan isn't a national holiday or religious celebration. Instead, it's celebrated much like Valentine's Day!
Couples exchange presents, spend quality time together, and go out for a romantic night on Christmas Eve. This usually includes going for a walk to look at winter illuminations (a.k.a. Christmas lights).
The tradition of Santa Claus has made it to Japan, and children do enjoy opening presents on Christmas morning.
However, because chimneys aren't a regular feature for homes in Japan, Old St. Nick takes on a more spectral quality as a ghost that visits with gifts.
7. Every year thousands of Christians travel to Bethlehem (the birthplace of Jesus Christ) to celebrate Christmas Eve, waiting until midnight to begin ceremonial practices.
Bethlehem is located in the Palestinian West Bank, a mostly Muslim region, but the locals still put on quite a show.
Festivities include a big Christmas tree in Manger Square, uniformed Palestinian scouts parading through town, and plenty of vendors selling treats and gifts.
One of the popular activities for Christmas Eve in Bethlehem is visiting the Church of Nativity, which has a small grotto that many believe is the specific birth site of Jesus.
READ MORE: 15 Simple Recycled Christmas Cards Crafts for Kids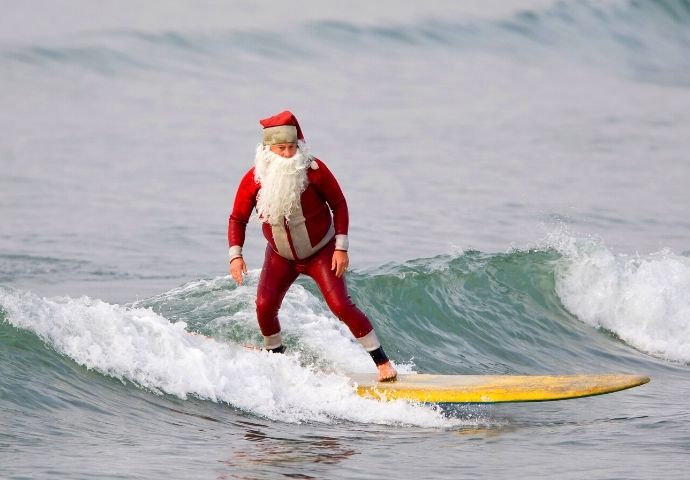 Christmas Eve Traditions in Australia/New Zealand
8. Though Australians and New Zealanders do love Christmas, they have a completely different list of things to do on Christmas Eve.
While Christmas in the US, Canada, and Europe is generally associated with snowmen, sledding, reindeer, and such, December is summertime in the southern hemisphere.
So Aussies and Kiwis tend to go camping and/or to the beach. Swimming, surfing, and other water-based activities are what folks tend to do for Christmas there.
READ MORE: The 20 Best Christmas Light Displays in Georgia
Christmas Eve Traditions in Europe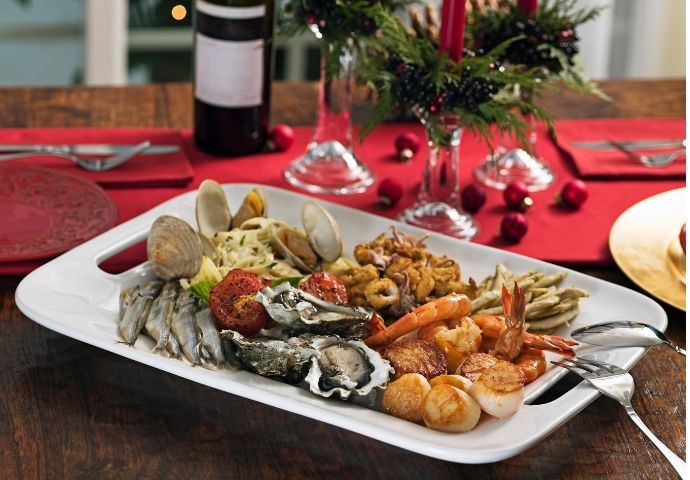 9. Christmas Eve in Spain is referred to as Nochebuena (Good night), and it is probably more widely celebrated there than Christmas Day.
Nochebuena is chocked full of Christmas Eve tradition for families, with the main one being a huge dinner with many courses. It can last for seemingly endless hours!
After the feast, families usually go to midnight mass and/or enjoy Christmas carols.
10. In Norway, Christmas Eve is believed to be when witches and evil spirits arrive. So a common Norwegian Christmas Eve custom is hiding all the brooms before going to sleep.
Without the brooms, witches won't be able to take to the skies. Guess that makes it easier for Santa Claus to fly!
11. Prior to the Christmas Eve meal in Poland, family and friends eat pieces from a common oplatek and wish each other good fortune and happiness.
Oplatek is Polish for Christmas wafer, and sharing an oplatek is a most beloved Christmas Eve tradition in Poland.
Sometimes the oplatek of this Polish Christmas Eve tradition is plain, but they can be also decorated with detailed religious scenes.
12. Unsurprisingly, Italian Christmas Eve traditions primarily center around food.
Deeply tied to the Catholic Church, the traditional Italian Christmas Eve dinner is the "feast of seven fishes." The number seven represents the seven days of creation, the seven sacraments, and the seven deadly sins.
The fish aspect of the dish is tied to the avoidance of meat and dairy on the eve of many holidays.
In reality, this tradition is but one of many food-based Christmas Eve Italian traditions. Due to the biodiversity and variance of Italy's landscapes, different regions have different meals.
READ MORE: 35 Recycled Christmas Decorations & DIY Christmas Crafts to Make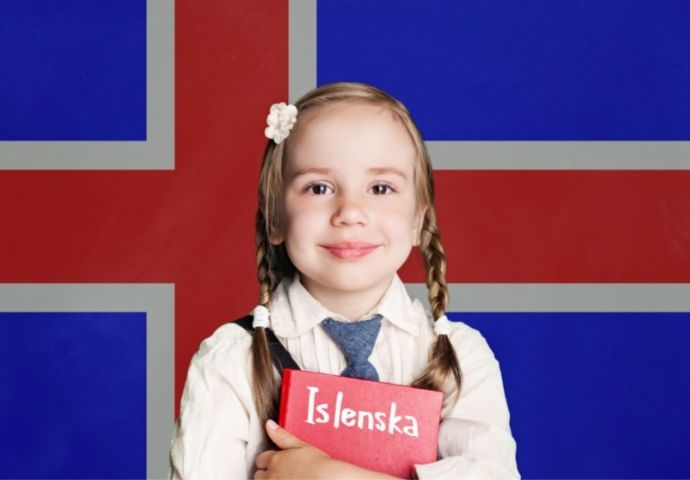 13. Iceland is steeped in literature. Per capita, Iceland has the most writers, books published, and books read of any nation in the world. So it should come as no surprise that the most esteemed of Iceland's Christmas Eve traditions is the "Yule Book Flood."
The Jolabokaflod is the Icelandic tradition of giving a book on Christmas Eve and spending the evening reading it. Throw in some chocolate or hot cocoa, and we'd consider that an evening well spent!
14. In Ireland, Christmas Eve celebrations are noted with a single red candle burning in the front window of the house. This is a symbol of welcoming for those who pass, particularly Mary and Joseph.
Traditionally, the candle is lit by a daughter named Mary or, if one of those isn't available, by the youngest girl in the house.
15. Have you ever heard of "hiding the Christmas pickle?" 
There are many stories as to how this funny German Christmas Eve tradition began, though none of them have been authenticated by historians.
On Christmas Eve night, parents often hide a glass Christmas pickle somewhere on the Christmas tree. In the morning, the first child to find the Christmas pickle gets a special treat or a bonus present!
READ MORE: German Christmas Cookies – Lebkuchen Recipe (aka German Gingerbread Cookies)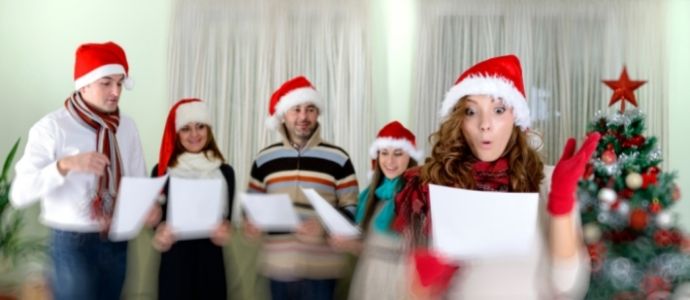 16. Like many Orthodox Christians, Ukrainians follow the Julian calendar and therefore celebrate Christmas in early January rather than December.
Ukrainian Christmas Eve traditions center on an enormous feast– so large that only snacking is permitted throughout the day.
The meal can consist of as many as 12 or 13 courses to represent the apostles of Jesus. Before anything is eaten, blessed bread is broken and shared, then dipped in honey, moving from the eldest to the youngest.
17. In Denmark, Christmas Eve celebrations involve dancing and singing. The Danes often move the Christmas tree into the center of the room and hold hands while dancing around it and singing Christmas songs.
18. Christmas Eve in France is all about the Christmas Eve food traditions. Le réveillion de Noel, the traditional Christmas Eve dinner in France, has 13 desserts to represent the 12 apostles and Jesus.
They include figs, almonds, hazelnuts, raisins, apples, pears, prunes, walnuts, tangerines, green watermelon, white nougat, dark nougat, and heart cake.
Another, more popular dessert addition has since been added. The Bûche de Noel, or yule log, is a cake in honor of the actual (wooden) yule log that was traditionally burned on Christmas Eve night.
19. In England, Christmas Eve takes a backseat to Christmas Day and Boxing Day (the day after Christmas celebrations). 
However, King's College Cambridge does have a tradition of broadcasting "The Festival of Nine Lessons and Carols" on BBC Radio 4 to the entire country (and, via BBC World Service, to all corners of the world).
The program consists of the reading of nine separate passages from the Bible, which are intermingled with hymns. The first carol is always "Once in Royal David's City."
The Christmas Eve service was originally introduced in 1918, and was first broadcast in 1928.
Carols from King's is another Christmas Eve broadcast of a pre-recorded carol service, which airs on BBC TV.
READ MORE: The 30 Best Places to Spend Christmas in Europe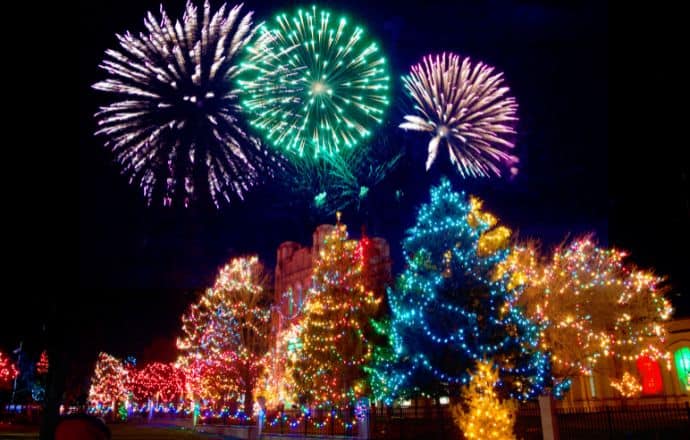 Christmas Eve Traditions in Central America
20. Many of the Central American countries— including Belize, Costa Rica, El Salvador, Guatemala, Honduras, Nicaragua, and Panama – share lots of cool Christmas Eve traditions.
Most of these countries have tamales for Christmas dinner and, with large Catholic influences from Spanish colonization, attending a Midnight Mass is standard protocol.
Midnight on Christmas Eve is often celebrated much like New Year's Eve, with elaborate firework displays.
This tradition is also found throughout North and South America. Montreal has a huge fireworks extravaganza on Christmas Eve, as does Disney in the USA. Mexico also does it after late-night mass.
READ MORE: The 20 Best Places to Visit in Central America (for Nature Lovers)
Christmas Eve Traditions in North America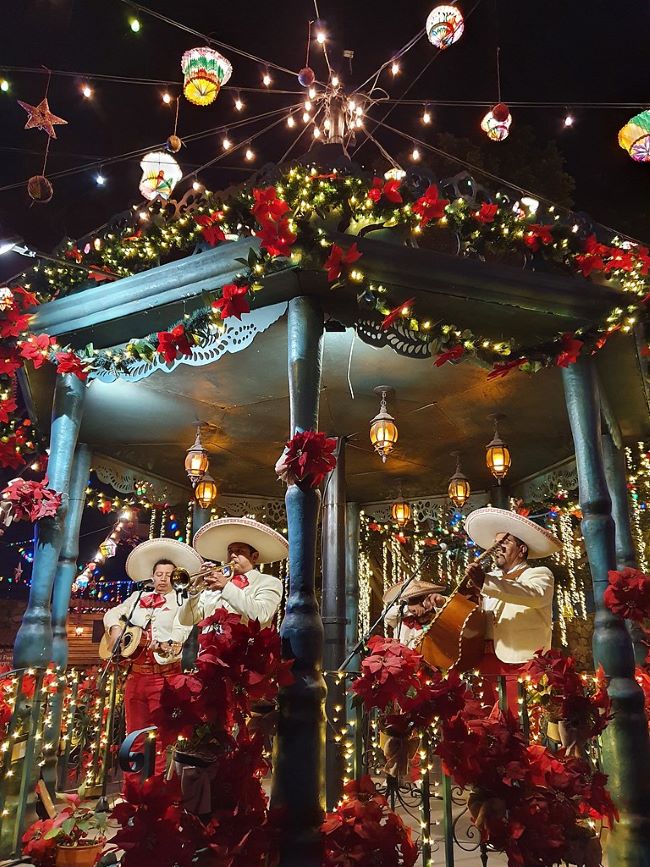 21. As a child, my most beloved Christmas Eve tradition in America was setting out milk and cookies for Santa to enjoy while he was delivering presents.
Real purists may include baking fresh cookies for Santa, but I can't remember having ever done that. Nevertheless, nary did a Christmas Eve pass without considering old Kris Kringle's sweet tooth.
My wife Emma, who grew up in the UK, would leave out mince pies and sherry for Father Christmas. In hindsight, this sounds even more fun, and might be one of the best Christmas Eve ideas for adults!
22. One Mexican Christmas Eve tradition that is increasingly found north of the border is Posadas. The Christmas events begin nine days before the holiday, and culminate on the 24th of December.
Posadas are tied to the story of Mary and Joseph seeking a room when the arrival of baby Jesus was imminent.
Guests to posada (shelter) parties reenact the event by splitting into two groups, with one group seeking shelter and the other acting as innkeepers.
The groups sing songs back and forest until the outside group is allowed in. They're soon served a meal of tamales, buñuelos (a doughnut dipped in cinnamon), atole (a hot corn drink, possibly flavored with chocolate or vanilla), and ponche (a punch that's somewhat similar in flavor to mulled wine).
23. Nothing says fun quite like opening your Christmas presents a little early. So kudos to Canada!
The Canadian Christmas Eve gift tradition changes by household, whether it's all the presents or some. But it's standard practice to open at least one present on Christmas Eve.
Of course Canada isn't the only country to do this, but it is a very prominent holiday tradition there. 
READ MORE: 40 Fascinating Christmas Traditions in Mexico
Christmas Eve Traditions in South America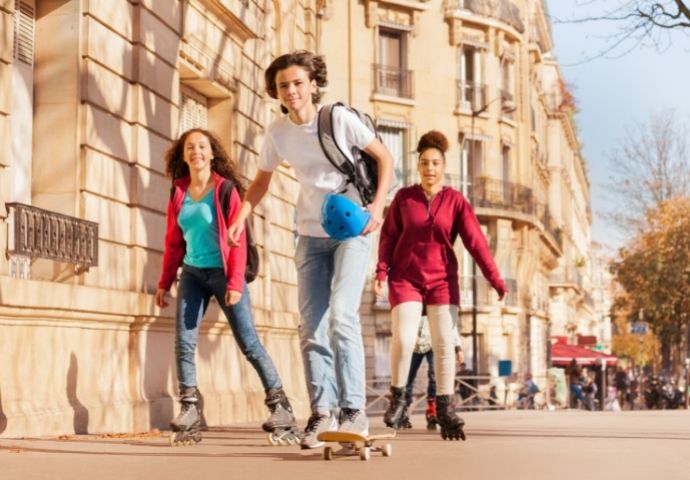 24. Having a large family feast on Christmas Eve is a common custom in Brazil, but it doesn't kick off until really late. In fact, Christmas Eve dinner there usually doesn't start until about 10pm! 
Everyone likes to dress to the nines. Friends get together in the afternoon to celebrate, and families get together in the evening. The event really reaches its peak at midnight, the official start of Christmas Day.
Common holiday fare in Brazil includes a "Chester" (a busty chicken), which is cooked in pineapple sauce. Lots of cold dishes accompany the bird, and international dishes like Italian panettone might show up as dessert.
25. Attending a church service on Christmas Eve might seem like a rather pedestrian holiday tradition, but not the way the Venezuelans do it!
How about roller skating to church in the morning? Residents of Caracas have a time-honored custom of skating to Christmas Eve mass.
In fact, the local tradition is so engrained that the city government closes the streets to traffic so that families can skate to church safely.  –Jonathan Engels; lead photo via Canva