A symphony for the senses, Ecuador cultural tours invite you to engage with the intangible magic of this extraordinary country, its history and its people. There are, for example, the indigenous communities all over Ecuador, from Amazon tribes to the Andean Highlands, some of which you can meet and learn about their way of life. Then too, a dizzying array of colonial towns are studded throughout Ecuador, with evidence of Inca- and European-style architecture clear to see, from Cuenca's historic cathedrals to Quito's carefully preserved monasteries, and many more.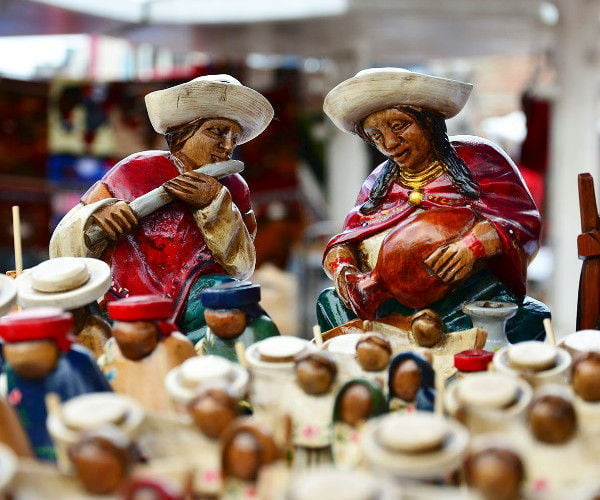 Then too, ancient archaeology leaves traces of Ecuador's rich heritage: from the Ingapirca fortress of the Inca civilization to the Cochasqui pyramids, to name just a few. Thousands of years of history are evident in sites peppered across the country, which simply have to be seen to be believed.
A culture tour in Ecuador might incorporate dance classes, festivals and art galleries; market visits, canelazo tasting or cookery classes for the chance to savor some of the tantalizing flavors that showcase Ecuador's culinary prowess. After all, this vibrant, versatile, often overlooked country is home to some of the most intriguing cultural highlights.
1. Local market tours: Try your hand at haggling
Almost every town you visit in Ecuador will have a market, bursting with color, intoxicating aromas and local handicrafts. These are stops where you can soak up the atmosphere and enjoy a real taste of Ecuadorian culture as you try out your bartering skills everywhere from tiny townships to sprawling metropolises.
Clearly, the most iconic of these is Ecuador's Otavalo Market, which continues to hold the title of the most colorful and important in all of Latin America. Though recovering from the pandemic only in terms of foreign travelers, this market peaks on a Saturday and sees visitors flock from far and wide to purchase artisanal wares. Pick up brightly colored textiles, beautiful beads and carefully painted ceramics as you potter around this huge collection of stalls.
2. The Amazon: Make contact with "lost" communities
The Ecuadorian Amazon is not just home to a staggering array of wildlife, but also to indigenous communities whose members have lived in perfect harmony with the rainforest for centuries, doing what they can to protect their "casa grande" (big home): The Amazon Rainforest.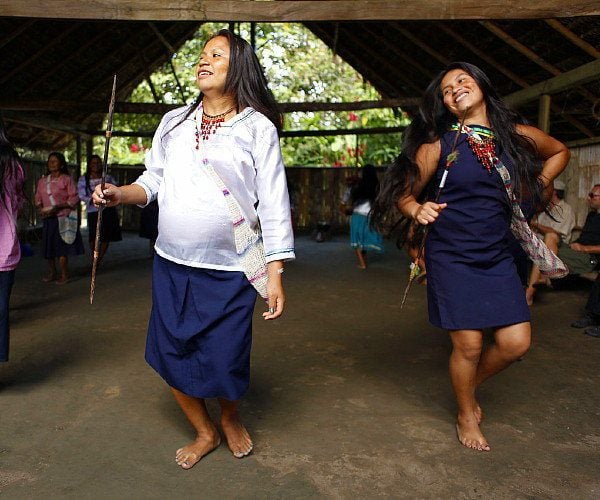 If you want to get well off the beaten track, choose to stay at one of the upscale eco-friendly Amazon lodges offered in Ecuador, some of which will invite you to learn about the local communities that still live by and follow ancient traditions. As a visitor, you can make direct contact with these communities, spend time with their members, and gain a new understanding of the intricacies of the Amazon and the means through which they endeavor to guard it. While staying in this region of the Amazon, it is possible to participate in an early morning ceremony performed by a local Achuar dream interpreter, gaining a fascinating insight into an important part of their culture. Other cultural activities range from cuisine to rituals, it's an adventure that's sure to be an eye-opener for children of all ages.
For travelers who are keen to visit the world's greatest rainforest but want to wake up in a new location each day, while staying in the lap of luxury throughout your trip, look no further than a luxury riverboat cruise in the Amazon. On upscale vessels, when you're not out on jungle excursions, meeting local communities or encountering all sorts of exotic wildlife in the presence of knowledgeable and friendly guides, you can stargaze at night, feast on exquisite meals and sip cocktails to your heart's content.
And what's greatest about Ecuador's Amazonian rainforest basin is that it's the most easily accessible rainforest area in all of South America! A place where the adventure of a lifetime awaits you…
3. Architectural tours in Ecuador: Prepare to be amazed
Stretching back thousands of years, the eye-catching architecture of Ecuador unravels the story of this small nation piece by piece.
Due to a mass of cultural influences from all over the world, as well as homegrown talent, Ecuador has a wealth of architecture that cannot be missed. From Quito's historic center to the ultra-modern Malecon 2000 boardwalk in Guayaquil, whether you are visiting a small colonial town or a bustling metropolis, the buildings that hem the streets will be sure to leave an impression.
Elegant theatres, breathtaking places of worship and imposing government buildings across the vast Ecuadorian country are just some of the architectural delights that you can expect to see during your stay. European-inspired Baroque churches such as La Compania de Jesus in Quito, with its gilded interior and ornamental façade, showcase the intricate design features that became popular as Ecuador developed into the destination we know today. Wherever you choose to travel in Ecuador, you can be sure to be greeted with far more than simple bricks and mortar.
4. Afro-Ecuadorian culture: Feel the rhythm of the beat
Only in Ecuador's recent history have people of African descent begun to receive further awareness not only from their own country but from the world. For too long, Afro-Ecuadorians were a forgotten people amongst Ecuadorians.
Though constituting just under 10% of the nation's entire population, Afro-Ecuadorians are concentrated in the coastal province of Esmeraldas in northwestern Ecuador, where 70% reside. This centralization of the Afro-Ecuadorian population has helped foster and sustain their cultural heritage and customs.
In addition to Afro-Ecuadorians' domination of Ecuadorian sports, their musical talents have significantly impacted the Ecuadorian culture. In particular, the country's arrullos and marimba music reveal the important role the descendants of Africa have played. While visiting Esmeraldas, you can hear for yourself a branch of the marimba genre: the marimba salsera. This combines the contemporary influences of the prevalent salsa culture with more traditional music, which has resulted in yet another step made by Afro-Ecuadorians in contributing to Ecuador's richly diverse cultural heritage.
5. Festivals in Ecuador: Why not join the party?
As Ecuador is famous for its festivals, what better way to throw yourself into the local culture than to join the party?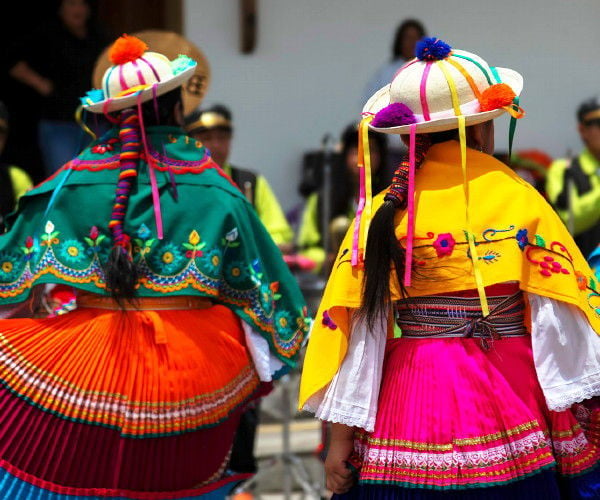 With celebrations of all shapes and sizes taking place throughout the year and Latin music festivals attracting some of the continent's most famous acts, Ecuadorians definitely know how to celebrate life. From Quito's enormous Carnival, which quite literally welcomes hundreds of thousands of revelers on an annual basis, to the joyous Inti Raymi festival of the Sun — consisting of several weeks (!) full of dance, music, food, and spiritual rituals — if you wish to experience a slice of Ecuadorian life, attending a festival while you are visiting is sure to be a highlight of your trip.
---
IMPORTANT NOTICE:
If you are reading this article anywhere other than on A Luxury Travel Blog, then the chances are that this content has been stolen without permission.
Please make a note of the web address above and contact A Luxury Travel Blog to advise them of this issue.
Thank you for your help in combatting content theft.
---
However, if you prefer a more personal connection, travel to Otavalo to be part of Dia de los Muertos, or Day of the Dead. Each year at the start of November, cemeteries become busy with visitors decorating their loved ones' graves in preparation for this important event. Rather than being melancholy, this is a celebration of life, death and a reunion with loved ones who are no longer with us. But no matter what time of year you are in Ecuador, the exciting mix of festivals and events will offer you a unique insight into the rich cultural heritage of this eclectic country.
6. Ecuadorian food: For a good taste of South American
Awaken your tastebuds with an Ecuador foodie tour, as this vast and varied culture promises a platter of downright delectable dishes, divine drinks and irresistible ingredients.
One of the highlights of any trip to Ecuador has to be experiencing incredible new tastes and flavors. From traditional Andean dishes to modern culinary delights, and upscale restaurants to street food, dining brings Ecuadorians together and is the beating heart of the colorful nation. Ecuador offers one of the most diverse gastronomic landscapes in the region, but with so much deliciousness on offer, it can be tough to know where to begin!
You could start by getting into a cookery class, learning the history and recipes of typical Ecuadorian cuisine from the experts. Often, chefs will take you to local markets first, where you can witness the abundant produce piled up on stalls in traditional fashion, providing an insight into what goes into Ecuadorian gastronomy. There are some staple ingredients that crop up in many of the country's dishes. For example, Empanadas — moreish dough pockets stuffed with meat, cheese, beans or vegetables — are popular across Ecuador, while trusty staples like potatoes, rice, quinoa and corn are in abundance almost everywhere. All these dishes, and more, clamor to be tasted, savored and shared on a culinary tour in Ecuador; the question is, where to first?
7. Ecuadorian music: Experience magical melodies
Whether folkloric, Andean, national or bohemian, all these forms of Ecuadorian music are beautiful, yet complicated at the same time – though each reflects a distinct aspect of Ecuadorian culture.
While traveling through the country's Andean region especially, you'll come across several indigenous styles of music, such as those of the ethnic Otavalenos. As the ancient Inca were epic in Ecuador's original music, providing instruments and melodies, these are still used in Andean music today. Flutes, which were considered holy, are one of the most important instruments in this form of song.
The Ecuadorian coast has different styles of music, one that is influenced by African rhythms and traditions, though these forms also play a prominent part in the country's overall musical scene. Along the country's Pacific coast, you're likely to find bomba and cumbia music (which hails from Colombia) and see marimbas being used for toe-tapping percussion and impatient melody.
But that's not all. Popular styles of folksong like pasillo, pasacalle, and yarabi still exist, while modern rock has also sneaked into Ecuadorian music in the form of electronic instruments. In fact, the big cities of Quito and Guayaquil have developed their own indie rock scene that has allowed bands like La Máquina Camaleön to achieve international fame. Then too, Ecuadorian holidays and festivals are yet another opportunity to get into the rhythm and be swept up in the joy of the crowd.
8. Ecuadorian visual art: A melting pot of creativity
With artworks dating back hundreds of years and plenty of modern masterpieces too, an Ecuadorian art tour is an ideal way to come to grips with the country's rich cultural heritage.
Art plays an intrinsic part of any country's identity, and while traveling in Ecuador you will be treated to a diverse and beguiling range of artistic treasures. For example, you could pay a visit to Quito's San Francisco Museum and Convent to discover some of Ecuador's oldest relics, then later drive over to the La Capilla Del Hombre to experience the work of master artist Oswaldo Guayasamín (the "Painter of Ibero-America" – a complete contrast but equally impressive, showcasing the nation's artistic journey from ancient times to the modern day. Whichever provinces you visit, an art tour through Ecuador is intriguing, enlightening, and utterly enriching.
However, these are just a taste of the many art galleries and museums to discover in Ecuador, where a personalized art tour promises to give you an appreciation of this dynamic country on a whole new level.
9. Archaeology in Ecuador: Discover secrets of the distant past
Soak up the rich history of myriad ancient cultures and civilizations when you explore the archaeological wonders of Ecuador.
History lovers and intrepid travelers alike will be enthralled by the incredible archaeology in Ecuador. From an iconic Incan citadel to the Cochasqui ceremonial and astronomical center, there are countless mesmerizing structures, sculptures and ruins to explore in this stunning country. Created over centuries, these archaeological sites give an insight into ancient cultures, civilizations and lost ways of life.
Those interested in archaeological tours to Ecuador would be wise to start just outside of the city of Cuenca. Here, you'll discover the 16th-century Ingapirca fortress. Its name means "Incan wall," whose buildings are aligned to the sun such that all corners of the complex are fully illuminated. Moreover, its Sun Temple is the largest in Ecuador and well worth a visit
10. Hacienda stays: Life on a working farm estate
A stay in a working Ecuadorian hacienda amidst the majesty of the Andean highlands is a great chance to gain insight into the traditional day-to-day life that people in this area have enjoyed for generations.
Ecuador's award-winning haciendas date as far back as the late 16th century, with several of them having been methodically restored to provide luxury accommodation for travelers who want to experience life on an Ecuadorian working farm. These typically feature handsomely decorated rooms, all with fireplaces, cozy lounge areas and peaceful gardens. Ecuadorian cuisine is truly homegrown as these haciendas' farms provide organic vegetables, trout and dairy products for the guests, who can visit the estate on horseback, mountain bike or even in horse-drawn carriages!
Experiencing a local way of life with such stunning surroundings, and in complete comfort, is a joy. The haciendas fuse charm, character and history with bucolic landscapes, roaming horses and rustically elegant dining, which is a wonderful way to enjoy the region, feeling connected to its people and their heritage. We highly recommend staying a few days to get a full and authentic experience at one of these rustic yet resplendent estates.
Conclusion
To sum up, a cultural vacation in Ecuador might have you discovering picturesque Andean towns like Cuenca and Otavalo, as well as the remarkable city of Quito, which flaunts an exquisite UNESCO-listed "Old Town" that's graced with exceptional colonial architecture.
But whether in the Andes or the Amazon, the Galapagos Islands or along Ecuador's Pacific coast, you can immerse yourself in rich and diverse cultures reflected in busy markets and traditional music workshops, while meeting friendly locals along the way.
Alfonso Tandazo is President and CEO at Surtrek Tour Operator. Surtrek Tour Operator is a well-established firm, specializing in custom-designed luxury tours in Ecuador, the Galapagos and throughout the rest of South America.
If you would like to be a guest blogger on A Luxury Travel Blog in order to raise your profile, please contact us.